The
Audio Shield
has been out of stock for some time, so I thought I'd post a quick update.
First we couldn't get the 32 pin version of the SGTL5000 codec chip. So we bought the 20 pin version and redesigned the PCB. The 20 pin part works fine. The only loss is the ability to configure the alternate I2C address.
Then we recently discovered we have a supply chain issue with the SD socket. For years we've used this same SD socket on Teensy 3.5, 3.6, 4.1 and all versions of the Audio Shield. A large number we ordered back in April, which were originally promised for November and then rescheduled to December aren't coming at all, we just learned only days ago.
Fortunately, when we heard they were rescheduled, I started another redesign of the audio shield. By the time we learned no more SD sockets were coming, a prototype had already been built. Robin & I decided to put all the remaining SD sockets into Teensy 4.1 production. This is the reason Teensy 4.1 is in stock today.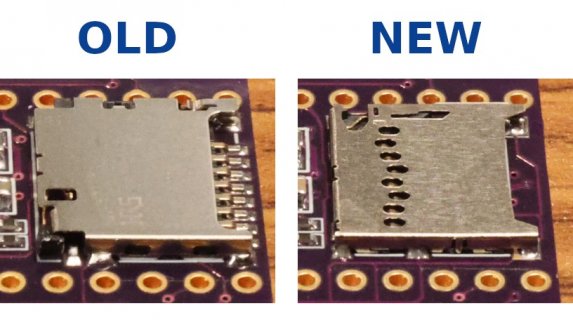 We're expecting the first production batch of Audio Shield PCBs within a week or two, which use both the 20 pin SGTL5000 chip and the new SD socket. Usually PCB assembly lead time is 3 weeks, but the Christmas and New Year holiday (all PJRC products are assembled in the USA) can disrupt the schedule.
Realistically, we're looking at middle of January for the new Audio Shields to become available. Once the PCBs arrive and they're in production (here in Oregon, USA), and the initial audit of all the parts is completed, we'll have an accurate date.
Teensy 4.1 will also soon transition to this new SD socket. Those are likely to come near the end of January or first weeks of February. Our hope is the production using up the last of the old socket will allow Teensy 4.1 to remain continuously in stock until a batch using the new socket can complete production. If they do run out of stock, it won't be for very long.
Eventually Teensy 3.5 & 3.6 will get the new socket too. But we are expecting long delays on the main chips for those boards, so they may not return until late in 2023 or perhaps even 2024.
For everyone waiting on the Audio Shield, my hope is we'll get them as soon as possible in January and manage to keep them in stock throughout 2023.