Hey guys! I apologize if I might miss a guideline or detail in this initial post as I am new to hobby electronics and this forum as a whole, but I have been running into a couple of issues with a Teensy 4.0 in a design that involves a RF module for remote control, a MOSFET switch and 3 servo motors. This is the schematic for my circuit: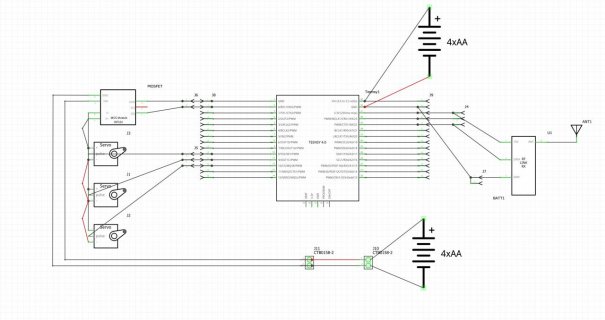 I tested the current draw to the SIG pin of the MOS module from pin 0 of the Teensy 4.0. It is near 0A and I would assume so, since the SIG pin is connected to the gate of the MOSFET. The reason for the MOS module is so that I can switch off power to the servo motors once I am done with whatever I need to do while still keeping the Teensy on in order to conserve battery power. The Teensy 4.0 is powered with the use of a 5-6V power bank connected to the USB input which was represented on the schematic as a 4 cell input to the Vin pin. Another source of issues could be the connection between the RF module and pin 29. I am unable to tell what might be causing the issue.
I have burned out 2 Teensy 4.0s so far, and I am assuming that they are burned since my laptop cannot recognize them through the USB port and all the LEDs are off. The chip heats up a fair bit on one of them. Does this indicate for sure that they have burned out? Both of them still have a 5V output from that specific pin when plugged in, though the 3.3V output pin only gives 0.2 to 0.4V. What does this mean in the context of the electrical connections? Can it be fixed in any way? Also, is there any way to tell which pin specifically burned out... and how would one digital pin affect the rest of the board? I tried looking at the electrical connections on the datasheet, but I am too novice to be able to diagnose the issue without more guidance. I would really appreciate any help on this and do let me know if I need to add more details to my post. Thanks!