Hi there!
I got my first Teensy and really like the specs and the size.
But i´ve problems to get it recognised by the teensy loader.
I´ve installed Arduino 1.0.4, Teensyduino 1.14 (Teensy 0.7).
I tried 4 USB cables and tried all the steps in the troubleshoot section.
I only want to try to programm the BasicTest from OctoWS2811.
When i received the board the blink program ran, but if i pushed the button the LED still blinked further.
Once i could load the BasicTest onto it after 50 tries, but now it didn´t worked for 100 tries...
And it´s the same with the Push Button, the programm still runs if i press it.
Have a mid 2012 MacBook Pro with OS X 10.8.3.
Do you´ve any more tipps i could try?
i´ve an oscillospe and a logic analyser.
Thx for your help and greetings from germany.
ben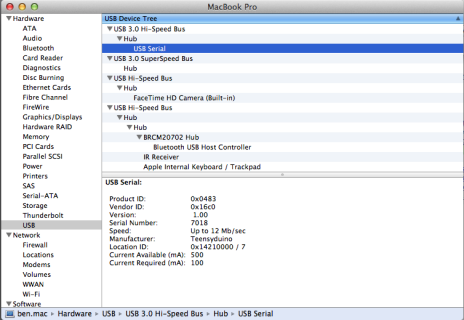 Last edited: